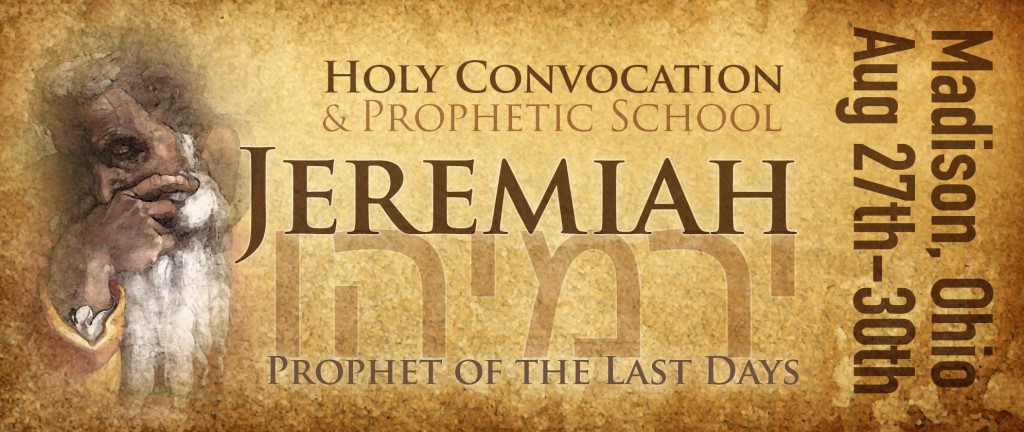 This End-Time Holy Convocation / Prophetic School was a four-day weekend study program. The purpose of these days was to inspire and encourage one another as we study the Word of the LORD that came to Jeremiah the Prophet, and seek to be fed by the Spirit in order that we might effectively serve the Lord and His Church in these last days.
| Day 1 |
Jeremiah the Prophet, the son of Hilkiah – Phil Norcom
"In the days of Josiah son of Amon, king of Judah…" – Jer. 1:2
| VIDEO |
| Day 2 |
The Making of a Man of God – Tom Quinlan
"Before I formed you in the womb I knew you" – Jer. 1:5
| VIDEO |
The Weeping Prophet & The Everlasting Covenant – Mark Klafter
"Oh that my head were waters and my eyes a fountain of tears…" – Jer. 9:1
| VIDEO |
False Prophets – Philip Haney
"Concerning the prophets, my heart is broken within me…" – Jer. 23:9
| VIDEO | Notes |
| Day 3 |
True Prophets – Fred London
"but let him who has My word speak My word in truth" – Jer. 23:28
| VIDEO | Manuscript |
Babylon is Fallen – Andrew Neal
"Babylon has been captured, Bel has been put to shame …" – Jer. 25:31
| VIDEO |
The Time of Jacob's Trouble / The Final Seven Years – Reggie Kelly
"Alas! For that day is great, there is none like it…" – Jer. 30:5-7
| VIDEO |
| Day 4 |
The New Covenant – Travis Bennett
"Behold, days are coming," declares the LORD…" – Jer. 31:31
| VIDEO | Manuscript |
Persecution / Jeremiah in the Cistern – Willie Wallace
"Then they took Jeremiah and cast him into the cistern" – Jer. 38:6
| VIDEO |
The Lamentations of Jeremiah – Phil Norcom
"How lonely sits the city that was once full of people!…" Lam 1:1
| VIDEO |
Concerning the costs for the meetings, we simply ask that each one prayerfully "as he has purposed in his heart" (2 Cor. 9:7) "put aside and save, as he may prosper, that no collection be necessary" when we come together (1 Cor. 16:2). An offering box will be at the back of the room. No public offering will be taken. Any offering money given that exceeds our costs will be given to the camp to be used as a down payment for future meetings.
(Donations are welcome)
For more information contact:
Phil Norcom
philwgnews@earthlink.net
5565 Market Ave. N
North Canton, OH 44721
Ph. 330-257-1139